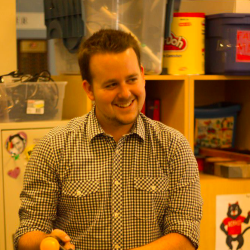 Micah Deterville – Executive Assistant
Originally from Woodland Hills, CA, Micah Deterville developed a love of music from a young age. He picked up the trumpet when he was 12 years old and played in various jazz bands and wind ensembles in school and mediocre ska bands in his free time. After high school, Micah left for Boston where he attended Berklee College of Music, earning his degree in Music Business/Management and becoming a regular member of the George Clinton and Parliament Funkadelic ensemble.
After graduating from Berklee, Micah was hired at ICM Partners where he worked as an agent trainee assisting with the touring careers of premiere musicians, comedians and special attractions. Micah came to Jingle Punks in August 2017 and is the executive assistant to the one and only, Jingle Jared!