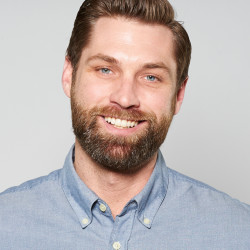 Dan Demole – Managing Director
Prior to that fateful night in 2008 when Dan & Jared's partnership was formed at a Black Keys concert in Brooklyn, Dan worked for Electronic Arts & Smiling Gator Productions where he developed next-gen video games. He also managed to squeeze in a quick, two year global trip that sent him backpacking across five continents, surfing in four oceans, meditating with the Dalai Lama and hiking to the top of Mt. Kilimanjaro.
Dan was the chief architect of the original Jingle Player, but has passed the tech torch on to the development team so he can focus on growing the business and handling the challenges of scaling Jingle Punks.  He has a weakness for french bulldogs, pale ales and feel pieces.